Living area: 60 sqm
Rooms: 1
Beds: 4
Description
Holidays at the West Coast, at one of the most attractive islands of the Bohuslän.

This studio holiday apartment is located at a small island in the middle of the skerry area north of Göteborg and in direct neighborhood of the island of Tjörn. Located at an abandoned farmstead, the apartment offers an enchanting view of the surrounding and the water.
The apartment consists of a combined living and sleeping area (large height of the room/ceiling) with well-equiped kitchen part as well as shower/WC.
There are spacious lawns around the domicile as well as a sand area for sports and for playing. In the nearer surrounding a lot of hiking trails had been laid out, which make and deck out this area - together with the bathing beaches around the island of Tjörn - a genuine summer paradise. Another exiting activity can be the exploration of the surrounding islands like Åstol, Dyrön, Marstrand and Klädesholmen. The islands are carfree and are called at by ferries.


Prices and availability dates
| | |
| --- | --- |
| L | Price: 4000 SEK/Week, 300 SEK/Day |
Arrival and departure day: Sunday
Available Weeks:
2018
2019

X

X

X

X

X

X

X

X

X

X

X

X

X

X

X

X

X

X

X

20

21

22

23

24

25

26

27

28

29

30

31

32

33

34

35

36

37

38

39

40

41

42

43

44

45

46

47

48

49

50

51

52
Contact
Berit Almqvist

Phone: +46 304-662416
Mobile: +46 70-2043540

Booking Enquiry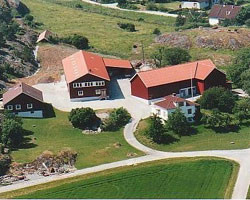 Facilities:


Electricity included


No smoking


TV

Bath/toilet:

WC


Shower

Cooking:

Cooking facilities


Microwave


Freezer


Refrigerator

Laundry facilities:

Washing machine

Other:

Network coverage for mobile phone

Outdoor:

Terrace with furniture


Barbecue


Garden

Similar objects
» Close To The Sea-Strömstad: 6 + 6 Beds
» House by the ocean: 8 + 3 Beds
» Cottage close to the sea in Bohuslän: 4 + 2 Beds
» Bohuslän Kungshamn Seaside, private pier: 4 Beds