Living area: 90 sqm
Rooms: 5
Beds: 5 + 4 extra beds
Description
The Cottage Kläpphögen anno 1850, was in its origin an ordinary cottage where they lived on the farms animals and agriculture. Since the early 1900 century it has belonged to the same family that gently has modernized and renovated the cottage in a modern way.

Total relaxation for the whole family
the Cottage is an old property on 20 acres located unilaterally, distant, beautifully situated with only a mil to the nearest neighbors. Today, there are few places that have been preserved in a quiet, scenic location where silence is total current. The large area consisting of meadows, old spruce forest, is a must for anyone looking for comprehensive recreation and relaxation from stress. Also, you have the right of public access if you want to wander undisturbed in nature. Just to be, disconnect the stresses of life, seize the day and take care of yourself and your family is important. Midnight sun, clean fresh air and clear water that naturally goes to drink.

The nearest village is a mil away, the nearest road is 3 miles away, separated by road barrier. Before the forest road was built in the 1950s the cottage was only accessible on foot or by boat. It is beautifully situated in a meadow, beautifully framed by spruce, along and beside a river, beavers and moose belong to the natural fauna. On summer evenings it is popular to watch the beavers that swim by in the river.

Entrance floor has hall, kitchen and two spacious living areas. The kitchen is equipped with stove, oven, Fridge / freezer, microwave and stove. The living room has fireplace, TV and sound system, DVD and cable TV. Utility room and toilet are separated. There is no shower room, instead you have to use an outdoor shower where the water is heated by the sun.

The upper floor contains two large bedrooms with alcoves, spread over 5 +4 beds. Extra beds can be arranged.

The old barn now serves as storage and accommodates for instance a carpentry bench, and there are fishing equipment, life jackets available to borrow.

The lawn at the farm is approximately 2000 square feet and invite the kids to play. Equipment such as trampoline, football, badminton racket, airguns can be borrowed.

Sauna can accommodate 4-5 people

Two boats are included. fishing tackle, nets to catch small pike and other small fish. There's a fish cleaning table and freezer available. The lake has pike, perch and whitefish.

Other things, salt lick for elk, visible from the kitchen table. There are five beaver huts, a beaver dam in the river within 500 meters radius.






Close by
Shop: 9 km
Swimming: 0 m
Banking: 40 km
Bus Stop: 9 km
Fishing: 0 m
Mountain: 30 km
Nearest neighbor: 3 km
Lake
Forest
Snowmobiling
Liquor Store: 40 km

Prices and availability dates
Arrival and departure day: Saturday
Available Weeks:
2019
2020

X

X

X

X

X

X

X

8

9

10

11

12

13

14

15

16

17

18

19

20

21

22

23

24

25

26

27

28

29

30

31

32

33

34

35

36

37

38

39

40

41

42

43

44

45

46

47

48

49

50

51

52
Contact
Fredrik Smith
Rådjursstigen 3
832 96 Frösön
Mobile: +46 70-3026120

Booking Enquiry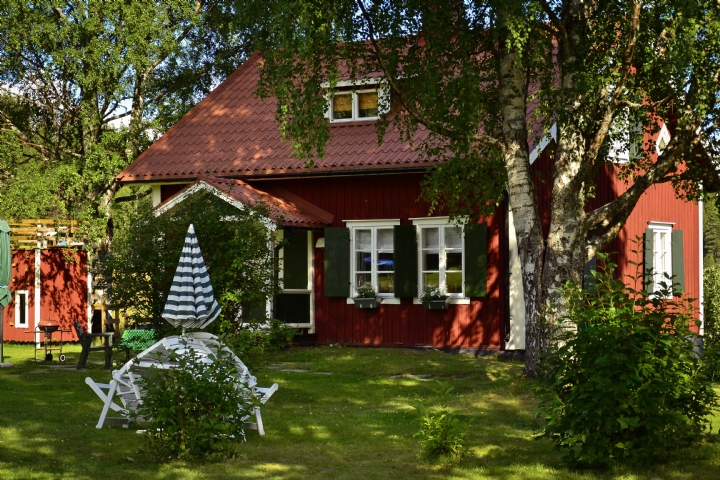 Facilities:


Electricity included


Pets not allowed


No smoking


Separate bedrooms


TV

Bath/toilet:

Plumpsklo (Außentoilette)


Sauna

Cooking:

Cooking facilities


Microwave


Freezer


Refrigerator

Other:

Fireplace


Network coverage for mobile phone

Outdoor:

Terrace with furniture


Barbecue

Similar objects
» Mountain cabin in Åre area: 8 Beds
» Blockhouse for 6 persons in Sweden: 6 Beds
» Exclusive 12 beds house - Åre Björnen: 12 Beds
» Old cabin near Bydalen: 7 Beds