Living area: 30 sqm
Rooms: 1
Beds: 4
Description
The Dalastuga is a cosy, little log cottage with a small kitchen and a larger room with 4 beds, fireplace and eating area. The cottage is not electrified - this means there is a dry closet, a well where you get your water from, a shed with firing wood, a stove where you make a fire to keep warm, gas to cook on and an earth cellar where the food keeps cool in summertime. LIving in the cottage is like living in the old days and our guests appreciate the total abcense of stress a lot! Please bring your own sheets and towels - but if that´s not possible you can hire some from us.
About 1,5 km away, in the village Odensjö down by the lake, you are welcome to use fridge, freezer, shower, rowing boat and bicycles ( if available in the right size!) for no extra charge. This is also our touristinformation and Bed & Breakfast.
The area around the lake Bolmen and the village Odensjö is very beautiful and suitable for bicycling, walking, fishing, swimming, sailing, rowing, windsurfing, picking berries and mushrooms and so on. It´s also a good place to stay in if you are interested in sightseeing in the south of Sweden - daytrips can easily be made to IKEA, the wonderful, sunny Westcoast (Halmstad), the famous Glass area in the east (Växjö), cheap shopping at Ge-Kås (Ullared), the Wild West city High Chaparall, Astrid Lindgrens World in Vimmerby or the biggest funfair place of Scandinavia (Liseberg) in Gothenburg!
On summer sundays there is waffles and coffe in the open air museum park in Odensjö, and this is also the place where you go swimming in the lake.
If you wish to stay only one single night, it´s 400 SEK/day, two nights cost 600 SEK, 3 nights cost 750 SEK and if you stay more than three days it´s only 200 SEK/day. Whole week: 1400 SEK. Firewood for the stove is included in the price!
Please note that the cottage, during high season, week 26 to 34, is bookable whole weeks only.

Directions
By car, take route 25 towards Växjö (eastwards) if you come from Halmstad (road E6) - then turn left towards Lidhult at the resting place Boasjön (there are two other possibilities to turn to Lidhult before that!) After 8km turn right towards Odensjö.
There are trains to Halmstad and buses from there - we could pick you up at the busstop if you wish. Please phone for more details!

Close by
Shop: 13 km
Swimming: 1,5 km
Banking: 13 km
Boat Rental: Rowingboat can be used!
Bicycle Rental: Bikes also!
Fishing: 1,5 km
Sea: 60 km
Canoe rental: 13 km
Cross-Country Skiing: 0 km
Nearest neighbor: 0-1 km
Restaurant: 13 km
Public Pool: 13 km
Lake: 1,5 km
Forest: 0 km
Beach: 1,5 km
Hiking trails: 0 km

Prices and availability dates
| | |
| --- | --- |
| L | Price: 1500 SEK/Week, 400 SEK/Day |
Arrival and departure day: Freely selectable
Available Weeks:
2018
2019

X

X

X

X

X

X

X

X

X

X

X

X

X

X

X

X

X

X

X

X

X

X

X

X

X

X

X

X

X

X

X

X

X

X

X

X

X

X

X

X

X

42

43

44

45

46

47

48

49

50

51

52
Contact
Ellen Svensgård
Torarp Vekadal 1
340 10 Lidhult
Phone: +46 35-93138
Mobile: +46 70-2666783
Homepage: www.naturellen.se

Booking Enquiry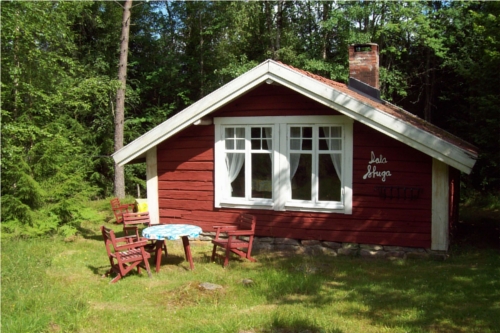 Facilities:


Pets are welcome


No smoking

Bath/toilet:

Plumpsklo (Außentoilette)

Cooking:

Cooking facilities

Other:

Fireplace


Network coverage for mobile phone

Outdoor:

Terrace with furniture


Barbecue


Garden

From the same advertiser
» Charming nonelectrifed cottage near lake: 6 Beds
» Spacious, cosy log cottage!: 8 + 2 Beds
» Cosy B&B by the lake Bolmen!: 8 Beds
Similar objects
» Woodshed with view!: 4 + 2 Beds
» Winterised cottage, 7+2 beds: 7 + 2 Beds
» Typical Swedish wooden house: 6 + 1 Beds
» Typical Swedish wooden house: 6 Beds