Living area: 220 sqm
Rooms: 4
Beds: 13 + 4 extra beds
Description
Anneborg is a great and wonderful cultural cottage with a lot of soul.
Property is completely restored to original condition and very lavish. High standard. The whole house is in top condition with tiled fireplace in every room. The barn is also in very good condition and works as a party venue as required.

Suitable for example 2 or 3 families possibly large family. Small weddings, jubileums, kick-offs etc. Maximum number of guests should not exceed 30 during the day, overnight up to 13 adults + 4 children. No groups of youths. Website www.anneborg.no. Good fishing in general in the area. The property is perfect for families with children - many beds and all sorts of activities for kids of all ages.

Dirt road without cars to several beaches. Good access to many sandy beaches in the close surroundings, ranging from 5 to 20 min driving distance. Great sports available: basketball hoop, volleyball net, soccer, table tennis, croquet, badminton, kayaking. Great hiking trails, close to several nature reserves, canoeing and possibility of horse riding at the equestrian center 5 min drive from the property. Golf course 10 min drive from the property. Tennis courts 20 min drive from the property. Also access to the bath house with pier located 5-6 minutes walk from the Anneborg, located on a neighbors land, not a sand beach. Can be used for kayaking etc.

An exciting cultural property. The property was initially used for production and sale of spirits and agricultural products. Later in the 1800s it was a manor where rich people drove around with 7-glass wagons. The old royal road runs across the yard. In recent times it was more for farming and animals. The barn is in top condition, freshly washed and used as storage space, and banquet facilities. The property is described in the book of Catharina Svalas, Den svenska garden från torp til herresete.

The interior of the house was original from 1850, when the renovation was begun in 2001.

The yard is completely renovated and very lavish.

The property is shielded off, and about 2 km to the nearest neighbor. 4 km to the convenience store and about 7 km to the large shopping mall in Charlottenberg.

13 beds in the main house + 3 fixed cots and a travel cot. The beds are distributed as follows: Double bed (pull-out sofa) in the living room /bedroom 1st floor. Double bed in bedroom on 2nd floor. 3 beds in another bedroom on the 2nd floor. 6 beds in large loft covering the entire base of the 3rd floor. Therefore it suits families. What limits the number of overnight guests is that there is only one bathroom / toilet / shower / tub indoors. There is a nice outhouse adjacent to the woodshed.

Prices:
NOK 10,000 = SEK 11,000 per week
(NOK 9000 and SEK 10 000 for low season)
NOK 16,000 = SEK 18,000 for two weeks.
NOK 6,000 = SEK 6500 for a long weekend Thursday through Sunday.

Check in and check out is normally at 12.00pm. When renting long weekend you can checkout at 4.00pm upon agreement, if nothing is scheduled rent the following week.
Mandatory final cleaning NOK 750 = 800 SEK will be added.
Upon booking half of the price will be paid as down payment as a confirmation agreement. The rest of the rent and deposit of NOK 5000 = SEK 5500 paid no later than one week before arrival. The deposit is paid back normally a day after departure, minus the used electricity during your stay. Meter read together with the tenant on arrival and on departure.

Main house (about 220 sq boa/264 bta):
1st floor: Glass porch, hallway, dining room with round wood furnace, kitchen with large dining area, open brick fireplace and oven, lounge with open fireplace, bedroom / living room with furnace, original village shop with tiled furnace.
2nd floor: Hallway with stair access to the loft, 2 large bedrooms, both with tiled furnace, lovely bathroom with tiled furnace, dining rooms with furnace.
3rd floor: Large furnished attic with several windows and high ceilings. Can be used as bedrooms for up to 6 people, summer.

Barn (658 sqm BTA + hayloft)
1st floor: Clothing, milking parlor with washer and technical cabinets, large open section with a dance floor and band stage, stables that are refurbished and made into a bar, stable for horses, poultry room with large freezer.
2nd floor: 50m hayloft with fence and the possibility of a long table.

Storehouse (94 sqm BTA)
Basement: bricked.
1st floor: 2 production rooms with two separate entrances.
2nd floor: Grain Storage. Grain storage is furnished as a family bedroom. A large room about 40 sqm with up to 5 beds in the summer

Woodshed (47 sqm BTA):
Woodshed in two thirds of the building as well as old-fashioned carpenter with material stock in the rest of the building.


Directions
Located in Charlottenberg (10 km) and Åmotfors (4 km), about 1 hr 40 min from Oslo. The property is free and alone overlooking Bysjön. Fishing rights in Bysjøn belonging to the property (fish and crayfish - are allowed signs). Possibility of mooring in Anneborgviken. About 6 km to Eda Golf Course with superb 18-hole golf course and about 6 km to Valfjellet ski centre.

Close by
Shop: Åmotfors 4 km
Pharmacy: Charlottenberg 7 km
Swimming: 3 km beach
Banking: Åmotfors 4 km
Bus Stop: 4 km - Åmotfors - Also a train station there
Boat Rental: Åmotfors 4 km
Bicycle Rental: Arvika 26 km
Fishing: 400 m - Bysjøen, pike and perch
Mountain: Valfjellet
Soccer field: Charlottenberg 7 km
Golf: www.edagk.com
Canoe rental: Åmotfors 4 km
Playground: In the garden and in the barn!
Cross-Country Skiing: 7 km - Valfjellet
Mini Golf: Arvika 26 km
Nearest neighbor: 2 km
Restaurant: Charlottenberg 7 km
Horse Riding: www.varmland.se/arrangement/20758
Public Pool: Arvika
Lake: 400 m
Forest: The house lies in the forest, by 2 lakes
Slalom slope: www.valfjallet.se 7 km
Beach: 400 m
Liquor Store: Charlottenberg 7 km
Tennis: Arvika
Hiking trails: 1-2 km

Prices and availability dates
| | |
| --- | --- |
| L | Low season: 12000 SEK/Week |
| | |
| --- | --- |
| H | High season: 13000 SEK/Week |
Arrival and departure day: Saturday
Available Weeks:
2019
2020

1

2

3

4

5

6

7

8

9

10

11

12

13

14

15

16

17

18

19

20

21

22

23

24

25

26

27

X

X

X

31

32

33

34

35

36

37

38

39

40

41

42

43

44

45

46

47

48

49

50

51

52
Contact
Camilla Hovig
Norra by
670 40 Åmotfors
Mobile: +4797150685

Booking Enquiry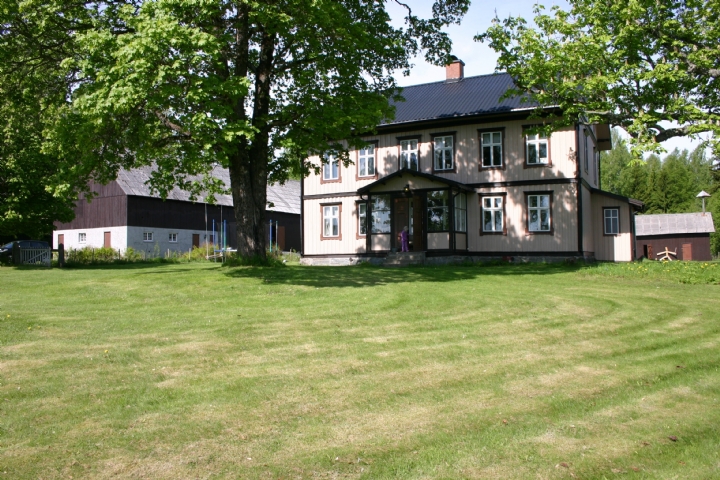 Facilities:


Allergy safe


Pets not allowed


No smoking


Separate bedrooms


TV

Bath/toilet:

WC


Shower


Badewanne

Cooking:

Cooking facilities


Dishwasher


Freezer


Refrigerator

Laundry facilities:

Washing machine

Other:

Fireplace


Network coverage for mobile phone

Outdoor:

Porch


Terrace with furniture


Barbecue


Garden

Similar objects
» Welcome to Brännebackens Farm: 15 + 3 Beds